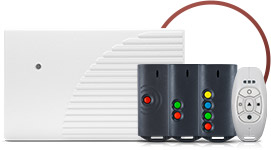 RK radio controllers
The radio controllers offer you a convenient remote control of various devices by using keyfobs. These controllers can be used in the intrusion alarm systems, as well as in the building automation installations or, alternatively, they can work autonomously.

Individual controller models differ in the number of relay outputs (channels - 1, 2 or 4), which means how many functions or devices they can start independently.
Keyfobs
Up to 1024 keyfobs can be used with each RK series controller. Regardless of the type of installation where the drivers will be used, be it home, office or another facility, they will allow you to remotely call up the selected functions. Each button on the keyfob can be individually programmed to suit the user's needs.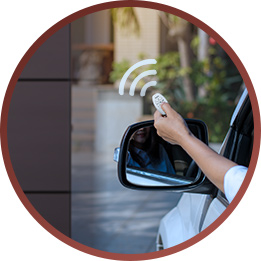 Working
with the alarm system
The use of controllers makes it significantly easier to operate the intrusion and hold-up alarm systems, enabling, for example, arming and disarming the system, alarm clearing or starting the entry delay countdown.
The RK series devices have outputs and inputs specially designed for interaction
with the alarm control panels.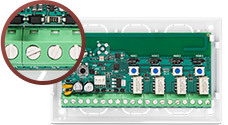 Other examples of use

calling for help in an emergency (e.g. panic, fire)

opening the wicket, entrance gate or garage door

raising/lowering arm barriers, winged/hoop barriers, folding bollards or parking posts

opening fully/partially and closing the windows

lowering/raising the window roller shutters or blinds

opening/closing the motorized curtains

raising/lowering the screens/TV

switching the lighting on/off

turning the sprinklers on/off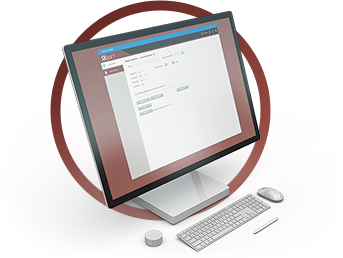 Intuitive configuration program
To configure the controllers, you should use the RK Soft program. Its clear menu allows you to quickly add new keyfobs. Each newly added keyfob can be immediately programmed as the one previously indicated as the reference.
Our products