Features
INT-TSH2 and INT-TSG2
Touchscreen keypads
Everyday operation of even complex alarm and building automation systems can be nice and easy. Replace your existing alarm system keypad with the modern touchscreen one.
The INT-TSH2 and INT-TSG2 devices are dedicated for operation with the INTEGRA and VERSA families of control panels.
easy navigation
multiscreen and multilevel interface simplify the daily system operation
technology
powerful processor and new software for smooth operation
gentle touch
capacitive screen for precise touch and swipe gestures support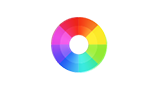 colour depth
more than 16 million colours available for high image quality
choose your own style
match the theme and the colour of enclosure to your interior
your choice
bigger or smaller? choose a keypad with 7" or 4.3" screen
Gentle touch
The high sensitivity of touch panel together with the responsive interface turn the everyday operation into a real pleasure. With the introduced swipe gestures support, navigating the interface is smooth and most importantly - intuitive.




Choose your own style
Match the keypad to your interior. Two different colour variants (modern white and classic black) help to ideally match them to your room design.
Free the colours
The interface is fully customizable, and allows installers to create dedicated themes with entire colour schemes and custom wallpapers. You can also choose one from over 20 preset themes available.
Let your imagination run wild
Together with your installer customize the icons and their placement on 24 available screens. You can group icons on each screen by their functions, room they relate to, and more. The icon appearance can be changed to best match their designated function.
System look-alike
Use the wide configuration options of the customizable interface to perfectly map your alarm or building automation system. The new keypads allow to upload a building map, and place the connected devices.
Everyday operation becomes even simpler than it was before, with you easily finding the device you want to control. Forget scrolling down the long list of different devices.
Perfectly adjusted
The screen brightness can be adjusted to match user preference or the day period. You can also set the volume of individual system sounds.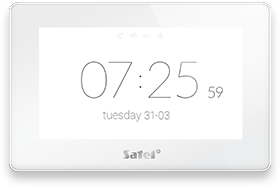 (Un)usual screen saver
Decide what the keypad should display when idle: a modern digital clock or perhaps a slide show composed of your favourite photos.
Colour depth
The INT-TSH2 and INT-TSG2 keypads can display over 16 million colours - more than the human eye can distinguish. The high image quality is hidden behind a glass panel that protects the display from scratches.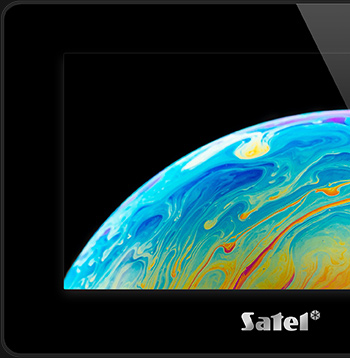 Technology
The new generation processor used in the INT- TSH2 keypad is over 2 times1, and in INT-TSG2 even 4 times2 faster than the processor used in previous models. All components have been selected and optimised to ensure efficient operation of even complex systems, including both facility security and building automation functions.
INT-TSH2
INT-TSH
2,6x faster1
INT-TSG2
IN-TSG
4x faster2
1 compared to INT-TSH
2 compared to INT-TSG
Your choice
The same quality in two different sizes.
INT-TSH2 is the bigger 7" touchscreen keypad. INT-TSG2 is the smaller 4,3" touchscreen device. You decide which one suits your needs better.

INT-TSH2
display size
7"
display resolution
1024 x 600
system status notification method
icons displayed on the taskbar
audio playback
speaker

INT-TSG2
display size
4,3"
display resolution
480 x 272
icons displayed on the taskbar
backlit icons on the device enclosure
audio playback
buzzer
Characteristics
The INT-TSG2 keypad is dedicated for operation and programming of the INTEGRA, INTEGRA Plus and VERSA families of control panels. It is an ideal solution for users seeking easy daily operation of the alarm system and building automation elements, including the KNX system. The combination of compact size and universal design makes the device perfectly suited to both modern and traditional interiors.
Features:
4.3" capacitive glass touchscreen with swipe gesture support

480x272 screen resolution, 16.7 million colours (true colour)

multi-level user customizable graphic interface

up to 24 additional screens

customizable and adaptable interface screens
more than 20 preset themes
custom themes support
widgets for keypad operation, control of the alarm system and automation devices connected to the control panel
system control via MACRO functions, which activate an entire chain of different commands (including building automation commands)
quick activation of PANIC, FIRE, and MEDICAL alarms
integration with the INTEGRA (INTEGRA Firmware 1.20 or higher) and VERSA (VERSA Firmware 1.10 or higher) control panels
screensaver with options to display clock, date, system component statuses (zones, doors, exits), and temperatures (INTEGRA and INTEGRA Plus only)
option to display a slideshow (photo frame function)
LEDs informing about the current system status, located above the screen
2 programmable hardwired zones (INTEGRA and INTEGRA Plus only)

support for NO and NC type detectors, as well as roller shutter and vibration detectors;
support for EOL, 2EOL and 3EOL configuration (3EOL with the INTEGRA Plus only);
programming of end-of-line resistor values

built-in piezoelectric transducer for acoustic signalling
adjustment of acoustic signalling volume
adjustable screen brightness with day/night mode
built-in microSD memory card slot (for storing photo frame pictures and additional screen wallpapers)
tamper contact responding to the enclosure opening or detaching from the wall
available in white (INT-TSG2-W) and black (INT-TSG2-B) enclosure
Documentation
Software

INT-TSG2 Firmware
universal
compiled: 2022-05-19
go to

Certificates

INT-TSG2-W
EU declaration of conformity
updated: 2021-08-31
220 KB
Technical Data
Operating temperature range
-10°C…+55°C
Standby mode current consumption
100 mA
Max. current consumption
140 mA
Environmental class according to EN50130-5
II
Security grade according to EN 50131
Grade 3
Supported memory cards
microSD, micro SDHC
Enclosure dimensions (width x height x thickness)
120 x 92 x 14 mm
Information materials

Technical Data
894 KB
The actual appearance of the products may differ from the presented images. Product descriptions are provided in the web service for information purposes only.