INT-RS
RS-232 interface for systems integration
Meet the successor INT-RS !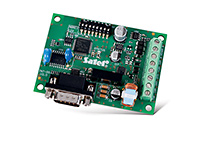 INT-RS Plus
RS-232/485 interface for system integration
SPRAWDŹ
RS-232 interface installed on keypad bus
GUARDX communication
RS-232 based monitoring support
open protocol for systems integration
discontinued
The actual appearance of the products may differ from the presented images. Product descriptions are provided in the web service for information purposes only.
Documentation

int-rs_op_int_2020-03-05.pdf
protocol description
updated: 2020-03-05
143 KB
go to


int-rs_io_en_1113.pdf
manual
updated: 2014-02-10
95 KB
Software
Certificates
Technical Data
Board dimensions
57 x 80 mm
Operating temperature range
-10…+55 °C
Standby mode current consumption
35 mA
Max. current consumption
35 mA
Information materials