CA-10 BLUE-S
LCD keypad for CA-10 control panel
The CA-10 BLUE-S keypad is used for daily operation of systems based on the CA-10 control panel. Text messages that appear on the LCD display and LED indications allow precise determination of the status of the alarm system. They clearly inform the user about the operation performed, which is helpful in avoiding handling errors. The occurrence of defined events can also be signaled acoustically. In addition, respectively marked buttons are located on the keypad that can be used to directly trigger the three alarms: PANIC, FIRE and AUX.
The device has 2 zones and RS-232 interface, which allows easy programming of the keypad options, defining of names and messages. The LCD display and keys have blue backlighting for comfortable use even in low light conditions.
The CA-10 BLUE keypad is available in two sizes: CA-10 BLUE-L is a device with a larger enclosure and a large LCD display, while CA-10 BLUE-S is more compact and has a small display.
LEDs for partition and system state indication
keypad hold-down PANIC, FIRE and AUX alarms
keypad and display backlight
buzzer for acoustic signaling
two zones expansion
communication loss indication
RS-232 for easy programming of keypad options, names and messages
The device you are looking at is intended
for creation of an alarm system
in a small-size building.
When creating such a system, you want:
quick and easy configuration
intuitive operation
and simple control
These features, so important in a traditional,
wired alarm system, are characteristic of
the new solutions for the control panels
offered by SATEL
What else can the new control panels offer you?
MICRA
CA-6
CA-10
PERFECTA*


GRADE 2

1/1
2/1
4/1
2/3
number of partitions / arming modes
1
2
4
4
number of keypads in the system
5/13
6/8
8/16
8/32
number of zones / maximum number of zones
2/2
5/5
6/6
4/16
number of outputs / maximum number of outputs
8
8
12
15
number of users
alarm module
control panel
control panel
control panel
device type
GSM/GPRS communication
SMS control
built-in voice communicator
wireless communication
keypad programming
GPRS, SMS
audio PSTN
audio PSTN
GPRS, SMS,
audio GSM
reporting
Android
none
none
Android, iOS
mobile application
connection setup service
*SATEL's product portfolio includes four models of PERFECTA control panels: PERFECTA 16, PERFECTA 16-WRL, PERFECTA 32, PERFECTA 32-WRL. The table describes the features of PERFECTA 32-WRL.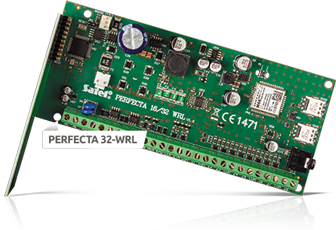 At the next installation,
try PERFECTA
check

discontinued
The actual appearance of the products may differ from the presented images. Product descriptions are provided in the web service for information purposes only.
Documentation
Certificates
EU declaration of conformity
updated: 2020-11-20
507 KB
Technical Data
Enclosure dimensions
115 x 95 x 25 mm
Operating temperature range
-10…+55 °C
Standby mode current consumption
50 mA
Max. current consumption
170 mA
Information materials

Technical Data
894 KB