CA-6 KLED
LED keypad for CA-6
The keypad is intended for daily operation of the CA-6 system's basic functions. The LED diodes are used by the control panel to display the basic system status information.
LEDs for zones, partition and system state indication
keypad hold-down PANIC, FIRE and AUX alarms
keypad backlight
buzzer for acoustic signaling
two zones expansion
The device you are looking at is intended
for creation of an alarm system
in a small-size building.
When creating such a system, you want:
quick and easy configuration
intuitive operation
and simple control
These features, so important in a traditional,
wired alarm system, are characteristic of
the new solutions for the control panels
offered by SATEL
What else can the new control panels offer you?
MICRA
CA-6
CA-10
PERFECTA*


GRADE 2

1/1
2/1
4/1
2/3
number of partitions / arming modes
1
2
4
4
number of keypads in the system
5/13
6/8
8/16
8/32
number of zones / maximum number of zones
2/2
5/5
6/6
4/16
number of outputs / maximum number of outputs
8
8
12
15
number of users
alarm module
control panel
control panel
control panel
device type
GSM/GPRS communication
SMS control
built-in voice communicator
wireless communication
keypad programming
GPRS, SMS
audio PSTN
audio PSTN
GPRS, SMS,
audio GSM
reporting
Android
none
none
Android, iOS
mobile application
connection setup service
*SATEL's product portfolio includes four models of PERFECTA control panels: PERFECTA 16, PERFECTA 16-WRL, PERFECTA 32, PERFECTA 32-WRL. The table describes the features of PERFECTA 32-WRL.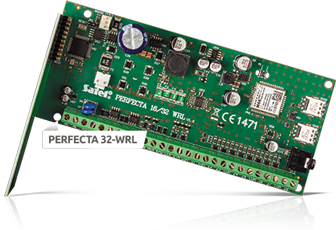 At the next installation,
try PERFECTA
check

The actual appearance of the products may differ from the presented images. Product descriptions are provided in the web service for information purposes only.
Documentation
Certificates
Technical Data
Enclosure dimensions
144 x 80 x 27 mm
Standby mode current consumption
15 mA
Information materials