TSI Builder
INT-TSI user interface setup builder
The TSI Builder setup tool allows to prepare a user interface which not only takes full advantage of the potential of control panels from the INTEGRA and INTEGRA Plus family, but also facilitates the every-day operation of a system combining home security and automation features. These systems differ in terms of the method of using inputs and outputs, division into zones, devices connected to the control panel, etc. Users may have different expectations regarding implemented functions and ways of their activation. TSI Builder makes it possible to adjust the interface appearance on a target device and define the INT-TSI keypad functionality that may be implemented separately for numerous system users.
In order to maximally facilitate the setup procedure, TSI Builder offers an intuitive interface featuring the Drag&Drop technology ensuring that the process of adding new elements consists in dragging them from the palette of available widgets. Another solution streamlining the system setup process is the availability of ready templates including necessary basic elements and the setup wizard guiding users step-by-step through the whole process. The final result of the TSI Builder tool operation is a set of files saved on an SD card inserted in INT-TSI.
compatibility with numerous operating systems (Windows, OSX, Linux);
intuitive GUI featuring the Drag&Drop technology;
automatic import of control panel settings;
possibility of online application updating
TSI Builder minimum hardware and system requirements:
processor: Intel Core 2 Duo 1.8 GHz;
RAM: 1 GB;
700 MB of free hard drive space;
Microsoft Windows 7.
The computer should be connected to the Internet. This will facilitate:
automatic update download;
download of names from a control panel and tests of the user interface.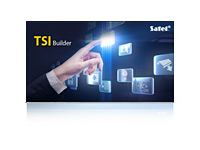 The actual appearance of the products may differ from the presented images. Product descriptions are provided in the web service for information purposes only.
Documentation
Software
Choose version:

TSI Builder 1.5 Windows
multi-language
compiled: 2021-04-22

TSI Builder 1.5 macOS
multi-language
compiled: 2021-04-22
Products
Information materials

Technical Data
894 KB
download