ACCO-NT
Access control panel
Meet the successor ACCO-NT!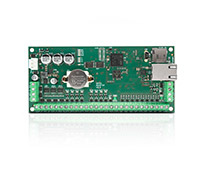 ACCO-NT2
Access control panel
CHECK
The ACCO-NT is an access control panel which is part of the ACCO NET access control system. It provides many new features for both the system administrator and the user. Centralization of the system, the ability to incorporate into it any number of objects and any number of control panels on the premises, as well as the ability to administer the system from the web browser are just a few examples of the new system functionality.
The ACCO-NT control panel has the option of programming complex logical operations on the outputs, which enables execution of non-standard control functions. Moreover, the control panel provides support for 8,000 users (up to 65,000 in the whole system), and each of them can be assigned 4 identifiers (cards, key tags, iButtons, etc.) plus a keyfob.
A single ACCO-NT control panel may be integrated with many intruder alarms based on INTEGRA control panels.
support for up to 255 access control modules
ability to create up to 255 partitions in 1 control panel (up to 255 access control modules can be defined in one partition)
ability to add up to 16 passageways (up to 16 partitions can be defined in each passageway)
8 programmable zones on the control panel board, expandable to 264 zones
8 programmable outputs on the control panel board, expandable to 264 outputs
2 high-current outputs on the control panel mainboard, with power output functionality (current-carrying capacity of each output: 0.5 A / 12 V DC ± 15%)
ability to connect up to 32 expanders directly to the control panel: INT-E, INT-IORS, INT-O, INT-ORS, INT-PP, INT-RX-S
electrical protection of all zones and outputs as well as communication buses
USB MINI-B port for configuring network settings and updating firmware of the control panel
LED status indicators for:

communication between the control panel and the RS-485 buses, computer and server
power supply circuit
microSD card

events are stored in non-volatile memory of the control panel:

up to 1,000,000 events from the control panel
100,000 events from each access control module

number of users: 8,000 in the control (65,000 in the whole system)
each user can be assigned:

code
passive transponder (e.g. in the form of proximity card or key tag)
Dallas chip (iButton)
remote control keyfob

ability to assign 4 identifiers and 1 keyfob to a single user
access to certain partitions within a specified time interval
ability to block/unblock partition at a specified time, or as per access schedule
implementation of logic functions on zones and outputs
support for turnstiles
ability to control the control panel outputs by using keyfobs
Attention!
ACCO-NT access control panel in version:
ACCO-NT access control panel works with ACCO-KP, ACCO-KPWG, ACCO-KP-PS, ACCO-KPWG-PS door controllers only in version v3.00 or higher.
discontinued
The actual appearance of the products may differ from the presented images. Product descriptions are provided in the web service for information purposes only.
Documentation
Software

ACCO-NT Conf
universal
compiled: 2019-07-03
go to


ACCO-NT Firmware
universal
compiled: 2023-03-21
go to

Certificates
Technical Data
Board dimensions
150x68 mm
Operating temperature range
-10…+55 °C
Standby mode current consumption
75 mA
Max. current consumption
125 mA
Number of outputs low-current, OC type
8
Number of programmable zones
8
Supported memory cards
microSD, micro SDHC
OC outputs rating
50 mA / 12 V DC
Current-carrying capacity, +EX output
0,5 A / 12 V DC
Current-carrying capacity, AUX output
0.5 A / 12 V DC
Number of high-current power outputs
2
Information materials

Technical Data
894 KB