New way of controlling the MICRA system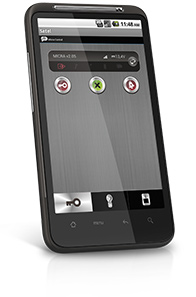 Since its market début the MICRA alarm module has been gaining more and more adherents. Its popularity is mostly due to its versatile applications, ease of installation and easy operation. Even though MICRA is one of the simplest alarm devices in SATEL company offer, it offers a wide range of system control solutions. Use of remote control constitutes the basic, day-to-day use, solution. With a remote control not only can stand-by be switched on and off, but additional functions can be activated. The range of dedicated accessories also include MKP-300 wireless keyboard which allows for basic command-based operation.
The control possibilities of the MICRA module are far more numerous, however. The module can be configured in such a way as to make it possible to control it with text messages sent from a mobile phone. Such a control method employs pre-defined commands that launch specific functions of the MICRA module. That's not the end. We decided to present MICRA users with a solution that would make remote system operation possible. This is how ...
... MICRA CONTROL application came into being.
In response to our Customers' needs and following the latest market trends, the SATEL company developed an application that makes daily control of the MICRA system easier. The MICRA CONTROL application is available for handhelds with Google Android operating system. It offers attractive, user-friendly interface which not only allows for switching stand-by on and off but also for checking system condition, controlling outputs and blocking selected inputs. Specific software functions are available in separate tabs between which the user can switch by scrolling on a touch screen.
Automatic configuration function constitutes a huge advantage of the MICRA CONTROL application. It's enough to provide SIM card telephone number in the MICRA module and the application will automatically configure settings consistent with those saved in the module.
The free MICRA CONTROL app is available in the Google Play store:
For Android 2.x operating systems
For 3.0+ operating systems
EXAMPLES OF APP SCREENS