Features
ASW-200
Plug in. Switch ON/OFF
Discover a new way to make your
home smart with the ASW-200 smart plug

Switches ON/OFF electrical devices

Radio communication ensures long range of up to 1000 m 1 2

Shows the current power consumption of connected appliance

Firmware protection against overload and overheat
1 when connected to ABAX 2 2 when connected to ABAX maximum range is 500 m
Smart everywhere and for everyone
With the ASW-200 smart plug, your devices can become intelligent. Just plug in the ASW-200 smart plug, and any appliance up to 2,300 W into an electrical outlet. The ASW-200 plug works as part of the ABAX 2 two-way wireless system. Any device connected to the smart plug can be a part of larger automation system, managed by the SATEL intelligent alarm control panel.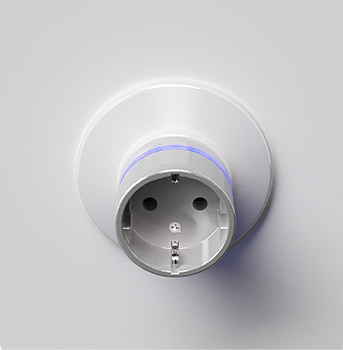 Intelligent and bright
Meet the LED Ring - a solution that allows you to quickly diagnose the operation of devices connected to ASW-200. LED Ring can operate in two modes: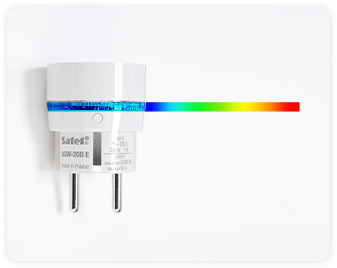 Monitoring mode
Look how LED Ring gently shimmers into 32 shades, depending on the current consumed by connected device. The LED Ring's smooth transition from blue to red colours quickly allows you to determine the level of power consumption.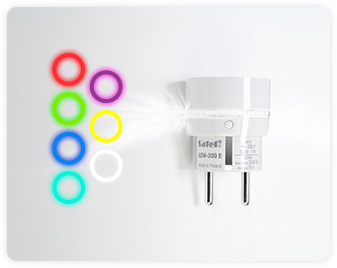 Light point mode
LED Ring has an additional mode, where it lights up in 1 out of 7 available colours. Choose your favourite! LED Ring can also be switched off.


Harmony at home
See how safety and comfort in your home come together in one coordinated whole. The ASW-200 smart plug was designed to operate in perfect
harmony with your SATEL alarm system.

Helps your home budget
When you leave your home and arm the alarm system, all or selected ASW-200 plugs can be switched off. This way the connected devices will not consume power while you're away. This is a real saving for your household budget.

Ingenious protection
In combination with the SATEL intelligent alarm control panel, the ASW-200 plugs can simulate the presence of household members by switching the lights on or off temporarily. This is a popular technique to discourage potential burglars.

Alarm and automation
The information received from alarm system devices can also be used to control the ASW-200 smart plug. When one of the detection devices senses movement in its field of view, the designated lamp connected to the plug will automatically switch on.
The programming possibilities of smart plugs depend directly on the model of the alarm control panel they are connected to.

Alarm Control Panel

timers set by installer

Alarm Control Panel

timers set by user

Alarm Control Panel

heating devices connected to ASW-200 can be controlled

automatically depending on temperature readings from alarm system devices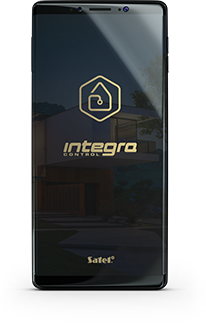 Flashy control
Choose the most convenient method to turn on and off your devices. ASW-200 can be controlled in a few different ways:
SATEL Mobile App
Control your smart home wherever you are. Depending on which of our alarm control panels your security system is based on, download one of the SATEL free mobile apps.


A higher level of comfort
With the ASW-200 smart plug, everything can happen by itself! Devices can turn on or off automatically, according to a programmed schedule.

The lighting in your home can work fully automatically, either according to a programmed schedule or when presence is detected in the room.

Turn the router off, wait for 20 seconds… Stop! With the ASW-200 smart plug, you can reset your router with a single tap, no matter how well hidden within your home it is.

Forget about reaching out for the outlet every time you need to unplug your laptop charger. The ASW-200 smart plug can turn the power off, or when your alarm system gets armed, so the charger does not consume energy unnecessary.

Caring for your privacy, ASW-200 can automatically turn the video cameras off when the alarm system is deactivated. When armed, the smart plugs can be turned on, restarting the cameras.

Pleasant temperature in your bathroom all year round, even outside the heating season. ASW-200 can control electric heaters in response to the current room temperature or on your direct command. No need to worry about damp towels anymore!

A weekend out of town can be much more pleasant if your holiday home is perfectly prepared for your arrival. With ASW-200, you can turn on your electric water boiler or heaters before you even get there. Enjoy your time off in the most comfortable way.

Use the timers to set up a schedule for sprinklers watering your garden. Sprinklers can be programmed to turn on only when your alarm system is armed, and no houeshold members are present.

Experience the magic of Christmas without the hassle of switching on lights as soon as it gets dark. ASW-200 can automatically switch on the Christmas lights at the time you want it to.

Summer! Imagine coming back home from work, where you can enjoy the ideal temperature. With ASW-200, you can remotely turn on the air conditioner while away from home.
Safe home
The ASW-200 smart plug features a number of mechanisms that guarantee the safety of its use. When a dangerous situation occurs, the smart plug signals a trouble.
When the smart plug notices that the current consumed by the device exceeds the maximum value for a while, it automatically switches off.
When the ASW-200 smart plug detects a dangerously increased temperature during operation, it turns off to prevent overheating.

The ASW-200 smart plug has been rigorously tested to ensure the safety of you and your loved ones. The high-quality materials it is made of, combined with a special anti-flammable compound, ensure maximum safety during everyday use.

High-quality plastic

Special anti-flammable compound

Firmware protection against overload and overheat

Resistive load of 2,300 W

Switches off when its temperature exceeds 100°C

Automatically switches on again when it cools down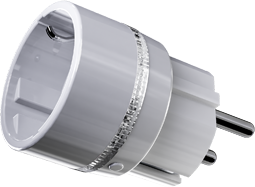 The design of ASW-200 both spells "safety" and "balance"
Its compact size means that smart plugs connected to a power strip do not block adjacent sockets.
Compatible with you
The ASW-200 smart plug is available in two socket types:
E-type socket (EURO)
F-type socket (SCHUKO)

The ABAX 2 wireless devices can offer you more!
Discover all their uses.
Read more
Characteristics
ASW-200 F is a smart plug that allows to remotely turn on and off connected devices. The smart plug is designed to work within a two-way wireless ABAX 2/ABAX system.
control of electrical devices of up to 2300 W
encrypted two-way radio communication in the 868 MHz frequency band (AES standard)
diversification of transmission channels - 4 channels allow automatic selection of one that guarantees transmission without interference with other signals in the 868 MHz frequency band
remote upgrade of the smart plug firmware
remote configuration
LED indicator

can display current consumption by the connected device
alerts of failure
can turn the indicator off completely
special button for configuring the indicator settings

firmware protection against overloading and overheating
ASW-200 is controlled by:
ASW-200 is also available with Type E (EURO) power socket.
Documentation

asw-200_en.pdf
general information manual
updated: 2022-05-04
504 KB

abax2_230V_int.pdf
quick installer guide
updated: 2021-05-04
531 KB
go to

Certificates
Technical Data
Operating temperature range
-10°C...+55°C
Operating frequency band
868,0 ÷ 868,6 MHz
Environmental class according to EN50130-5
II
Complied with standards
EN 50130-4, EN 50130-5
Supply voltage
230 V AC, 50-60 Hz
Power consumption in standby mode
1 W
Radio communication range (in open area) for ABAX
up to 500 m
Information materials

Technical Data
894 KB
The actual appearance of the products may differ from the presented images. Product descriptions are provided in the web service for information purposes only.