ACSP Soft
Configuration software for the ACSP addressable fire alarm control panel
The ACSP Soft program allows the configuration and diagnostics of the ACSP fire alarm system based on the ACSP-402 control panel. Configuration of the system is possible once level 3 access to the control panel has been obtained.
compatible with Windows 7/8/10/11
possibility to program ACSP-402 control panel and other system devices
identification and verification of devices in the system
possibility to prepare a setup file for the control panel in advance (off-line)
graphic mapping of the system structure
editing of names of individual loop devices, zones, inputs and relay outputs
editing of the message displayed on the LCD screen during supervision
readout of the system events memory
alarm memory readout
option to export the readouts of the event memory and alarm memory to a CSV file
direct connection to a computer via a control panel USB port
option to generate system test reports
option to export the setup information to a file, e.g. PDF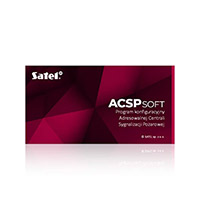 The actual appearance of the products may differ from the presented images. Product descriptions are provided in the web service for information purposes only.
Information materials

ACSP - leaflet
4.06 MB
download