STAM-1 PROG
Monitoring station management software
STAM-1 PROG is a DOS-based program designed for operating the SATEL monitoring station. The application, which is used to control the STAM-1 P, STAM-1 R and STAM-1 K cards as well as GSM modules installed in the PC computer, allows management of the signals received by these modules. It enables the incoming events to be handled by several operators at one station. Transmissions sent via telephone line or GSM (SMS and CLIP) and coming from more than 50 000 subscribers can be received.

Several identifiers can be assigned to each subscriber. Different categories of incoming codes (alarm, arming, disarming, trouble, restore, test transmission, etc.) can be defined for each subscriber and their identifier.

The program can receive and sort event signals as requiring intervention with automatic signaling of the emergency situation. This allows creating and archiving reports for individual subscribers, operators and the monitoring station system. All received events are logged in the event history log, whether or not identifier of the given event is included in the database. Security of the data being saved is ensured by the encryption function.

STAM-1 PROG is a fully functional version of the program. The STAM-1 DEMO demonstration version is also available, which allows you to become familiar with all functionality of the program.
support for telephone line monitoring, GSM reporting, monitoring
using TCP/IP networks
DOS-based multi-user solution
support for over 50 000 subscribers
multiple identifiers for single subscriber
code categories, defined for each subscriber and identifier
alert notification
due tasks notification
reports for subscribers, operators and whole monitoring station
database backups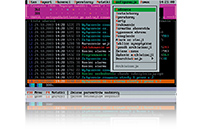 The actual appearance of the products may differ from the presented images. Product descriptions are provided in the web service for information purposes only.
Documentation

stam1_en.pdf
user manual
updated: 2021-06-21
256 KB
Products
Demonstration version of STAM-1 program
Information materials

Technical Data
894 KB