STAM-1 DEMO
Demonstration version of STAM-1 program
STAM-1 DEMO is a demonstration version of the STAM-1 PROG program, that allows you to get familiar with all its functionality.

The application allows management of the signals received by modules of the SATEL monitoring station. It enables the incoming events to be handled by several operators at one workstation. Transmissions sent via telephone line or GSM (SMS and CLIP) and coming from more than 50 000 subscribers can be received.

Each subscriber can be assigned several identifiers. Different categories of incoming codes (alarm, arming, disarming, trouble, restore, test transmission, etc.) can be defined for each subscriber and their identifier.

The program can receive and sort event signals as requiring intervention with automatic signaling of an emergency situation. This allows creating and archiving reports for individual subscribers, operators and the monitoring station system. All received events are logged in the event history log, whether or not identifier of the given event is included in the database. Security of the data being saved is ensured by the encryption function.
support for subscribers monitoring using phone line or GSM network
software working in DOS environment; enables work on 1 computer by multiple operators
support for over 50 000 subscribers
possibility to assign several IDs to each subscriber
different categories of codes received from subscribers defined independently for each subscriber and ID
reporting situations that require intervention
selection of events requiring intervention
creating reports for subscribers, operators and station systems
report archiving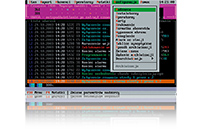 Het uiterlijk van de producten kan afwijken van de weergegeven afbeeldingen. Product beschrijvingen zijn te vinden in de web service voor informatieve doeleinden.
Producten
Monitoring station management software