INT- TSI keypad – a model to follow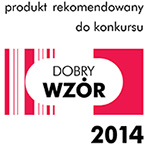 SATEL places great emphasis on the highest quality of its products, both technologically and visually. As a result, the SATEL innovative devices have received over the years many awards at numerous competitions and polls. However, the prizes awarded for the best design always have special importance, because they show that modern technology can be not only usable and intuitive, but also pleasing to the eye.
One of the most prestigious competitions in which products and services intended for the Polish user and characterized by high quality design are awarded is the "Dobry Wzór" (Good Design) competition, organized by the Polish Institute of Industrial Design (IWP). This competition is all the more exceptional because the given device may only be put forward after having been recommended by experts. It is the experts who, in the course of the IWP market monitoring, select the outstanding products and services which meet the criteria for high-quality design.
In 2014, the Good Design panel of experts has invited the INT-TSI touch screen keypad to be included in the competition. This choice is not accidental - the INT-TSI keypad, which is only a recent addition to the market, has already been recognized by the industry and users. It was also awarded by the Chapter of the 20th International Security Fair SECUREX 2014 with the highest prize - the Gold Medal.
SATEL would like to announce with great pleasure that the INT-TSI keypad has won, in the NEW TECHNOLOGIES category, the title of a product recommended for the Good Design 2014 competition. Thus the first stage of competition verification has been closed. This award is a confirmation that the direction of SATEL products development is appropriate, both in terms of the technology and the design used. The final result of the competition will be known in several months' time.