Features
NEW LINE OF PIR AND DUAL-TECH (PIR + MW) DETECTORS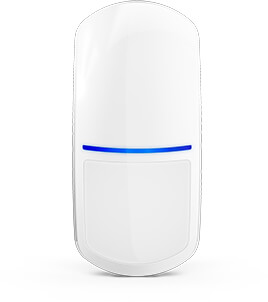 One enclosure, many devices
Elegant, slim enclosure is made of high quality plastic.
Uniform appearance of all detectors installed in the premises makes it difficult for an intruder to identify the specific model used in the system because all of them look the same.
SLIM-PIR · SLIM-PIR-PET · SLIM-PIR-LUNA · SLIM-PIR-LUNA-PET · SLIM-PIR-PRO
SLIM-DUAL · SLIM-DUAL-PET · SLIM-DUAL-LUNA · SLIM-DUAL-LUNA-PET · SLIM-DUAL-PRO
See the characteristics of SLIM LINE detectors

Reliable motion detection
A unique lens
Each detector comes with a modern lens designed and manufactured in Japan – specially for SATEL. It provides a very large detection area with dimensions up to 20 m x 24 m and 90° viewing angle.
Design of the lens, as well as the material of which it was made, make it exceptionally resistant to deformation.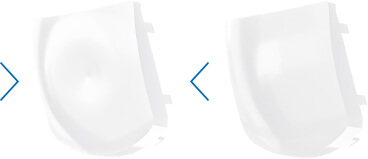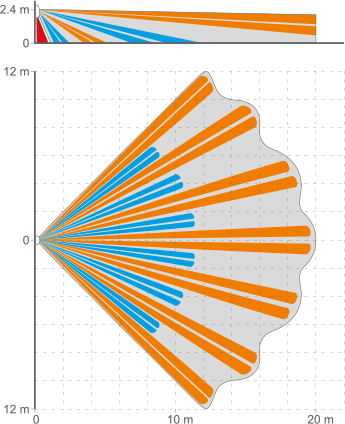 Coverage area of the LUNA (except PET models) and PRO detectors with wide-angle lens (WD)
New motion detection algorithm
Many years of experience in the production of motion detectors and the use of the latest technologies made it possible to develop an advanced new generation algorithm of motion detection. Because of it, SLIM LINE detectors ensure reliable detection of intruders throughout the entire monitored area, without triggering unwanted alarms.
Digital temperature compensation
SLIM LINE detectors dynamically adjust the motion detection algorithm to changes in ambient temperature, so these changes do not affect the effectiveness of the detectors.
Quick lens replacement
As you can easily replace the complete front part with the lens, the SLIM LINE detectors* can be quickly and conveniently customized to suit the needs of the premises, e.g. to the shape of protected room. The wide-angle (WD) lenses are fitted as standard, but curtain (CT) and long-range (LR) lenses are also optionally available.
* except for PET detectors

DUAL – two detection
paths:
PIR and MW
Dual technology detectors, in addition to the infrared (PIR) detector, are also fitted with a microwave sensor (MW), which obviously enhances their immunity to unwanted alarms caused by rapid temperature changes in the protected room or movements of air masses within the coverage area.

Creep zone protection
An integrated tilting mirror used in the LUNA* and PRO models enables effective monitoring of the so-called creep zone, i.e. the area directly under the detector.
* except for PET detectors

Signaling covering attempts
The SLIM LINE detectors in the PRO version come with the function of active anti-masking using infrared radiation. Therefore, any attempts to disable them, for example, by covering the lens with adhesive tape or spraying paint or clear varnish on it, can be signaled.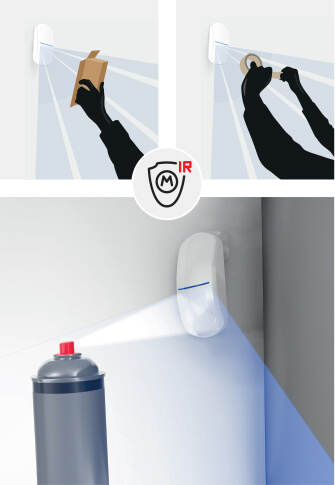 See a presentation of SLIM LINE detectors

Quick and easy installation
Practical enclosure opening / closing mechanism
You can open the enclosure with a flat tip screwdriver, while no tools are required to close it.

Plug-in terminal block
The LUNA and PRO versions come with a plug-in terminal block. When removing the electronics board, you do not have to unscrew the wire terminals. It also allows you to quickly change the detector model.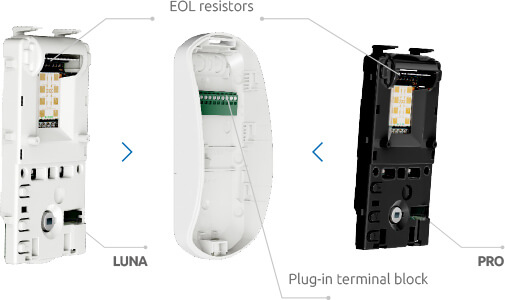 Built-in EOL resistors
All SLIM LINE detectors have built-in end-of-line resistors designed for work with SATEL control panels (1.1 kΩ). The LUNA and PRO models are additionally provided with resistors for faster installation in systems based on other types of control panels (4.7 kΩ, 5.6 kΩ).
Adjustable wall and ceiling mounting bracket
Design of the SLIM LINE detectors allows installation directly on a flat surface. If the detector needs to be mounted at a different angle for optimal adjustment of the protected area to the room, you can use the BRACKET D mount. Thus you can adjust the detector tilt angle in two planes: up to 35° vertically and up to 90° horizontally. To meet the EN 50131 requirements for Grade 3, the PRO model bracket is provided with a tamper switch.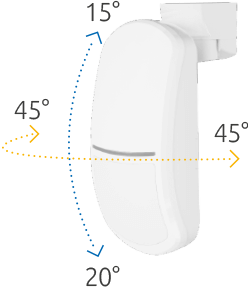 Additional light source
Models marked as LUNA come with additional built-in white LEDs. Consequently, these detectors can be used e.g. as motion responsive corridor lighting that can also work in the event of a power outage in the network. Lighting function can be controlled remotely or activated for a specified time when motion is detected.
Two levels of sensitivity
It is possible to remotely switch between two sets of detector sensitivity parameters. This allows you to change the motion detection settings e.g. depending on the state of the partition to which the detector is assigned. If the partition is disarmed, the detector can switch on the light in response to the slightest movement. When the partition is armed, the detector can use settings appropriate to eliminate unwanted alarms.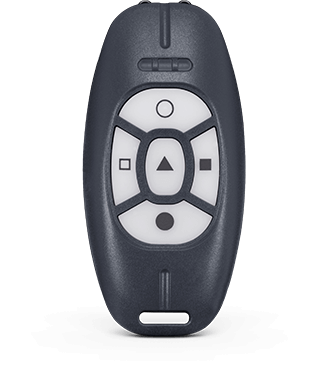 Remote configuration
A very useful feature for the installer, available in the LUNA and PRO models, is the ability to remotely change the detector operating parameters using the OPT-1 keyfob. Thus, the settings (including sensor sensitivity, operating mode, indicator light and LED lighting) can be changed easily, without having to open the detector enclosure each time.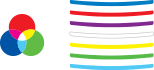 One indicator – many colors
SLIM LINE detectors offer the possibility of choosing the LED indicator color. Depending on the model, there are four or even seven colors available.

If necessary, the LED indicator can be turned off permanently.

Technical data
Comparison table
compliance with EN 50131 Grade 2

compliance with EN 50131 Grade 3

configuring operating parameters: potentiometers

configuring operating parameters: buttons and keyfob

end-of-line resistors - 1.1 kΩ

end-of-line resistors - 4.7 kΩ, 5.6 kΩ

plug-in terminal block

electronics board protecting cover

number of available LED indicator colors

active IR anti-masking

creep zone protection

built-in LED lighting

pet immunity function

SLIM-PIR
4
SLIM-PIR-PET
4
SLIM-PIR-LUNA
7
SLIM-PIR-LUNA-PET
7
SLIM-PIR-PRO
7
SLIM-DUAL
4
SLIM-DUAL-PET
4
SLIM-DUAL-LUNA
7
SLIM-DUAL-LUNA-PET
7
SLIM-DUAL-PRO
7
Lenses
coverage area with WD lens (standard)

coverage area with LR lens

coverage area with CT lens

SLIM-PIR
15 m x 20 m, 90°
25 m x 3,6 m
16 m x 2 m
SLIM-PIR-PET
12 m x 13 m, 90°
n/d
SLIM-PIR-LUNA
20 m x 24 m, 90°
30 m x 3,6 m
22 m x 2 m
SLIM-PIR-LUNA-PET
12 m x 13 m, 90°
n/d
SLIM-PIR-PRO
20 m x 24 m, 90°
30 m x 3,6 m
22 m x 2 m
SLIM-DUAL
15 m x 20 m, 90°
20 m x 3,6 m
16 m x 2 m
SLIM-DUAL-PET
12 m x 13 m, 90°
n/d
SLIM-DUAL-LUNA
20 m x 24 m, 90°
28 m x 3,6 m
22 m x 2 m
SLIM-DUAL-LUNA-PET
12 m x 13 m, 90°
n/d
SLIM-DUAL-PRO
20 m x 24 m, 90°
28 m x 3,6 m
22 m x 2 m
Characteristics
SLIM-PIR-LUNA-PET detects motion in the protected area. Additionally, the detector has a set of LEDs to implement the lighting feature.
certificate of compliance with the EN 50131 requirements for Grade 2
motion detection using passive infrared (PIR) sensor
adjustable sensitivity of detection
digital motion detection algorithm
digital temperature compensation
wide-angle lens, designed specifically for SLIM LINE detectors
pet immunity up to 20 kg
ability to configure detector operating parameters using the OPT-1 keyfob
built-in end-of-line resistors (2EOL: 2 x 1,1 kΩ / 2 x 4,7 kΩ / 2 x 5,6 kΩ)
lighting feature implemented with white LEDs
remote lighting control or motion activated lighting capability
LED indicator
selectable color of the LED indicator (7 colors available)
LED indicator remote enable/disable
remote switching between two levels of PIR sensor sensitivity
configuration mode remote enable/disable
supervision of motion detection and supply voltage circuit
tamper protection against opening of enclosure and removal from mounting


Documentation

slim-pir-luna-pet_en.pdf
general information manual
updated: 2021-09-07
588 KB

indoor_detector_int.pdf
quick installer guide
updated: 2020-06-05
443 KB
go to

mounting template
updated: 2022-03-25
233 KB
Certificates
EU declaration of conformity
updated: 2019-11-07
86 KB
EN-50131 GRADE 2 - certificate
updated: 2020-03-26
172 KB
Technical Data
Detected target velocity
0.3...3 m/s
Operating temperature range
-10°C...+55°C
Recommended mounting height
2,4 m
Standby mode current consumption
13 mA
Max. current consumption
97 mA
Dimensions
62 x 137 x 42 mm
Environmental class according to EN50130-5
II
Complied with standards
EN 50131-1, EN 50131-2-2, EN 50130-4, EN 50130-5
EOL resistors
2 x 1.1 kΩ / 2 x 4.7 kΩ / 2 x 5.6 kΩ
Security grade according to EN50131-2-2
Grade 2
Detection area
12 m x 13 m, 90°
Alarm outputs (NC relay, resistive load)
40 mA / 24 V DC
Tamper outputs (NC relay, resistive load)
40 mA / 24 V DC
Relay contact resistance (alarm output)
26 Ω
Relay contact resistance (tamper output)
26 Ω
Information materials

Technical Data
894 KB
The actual appearance of the products may differ from the presented images. Product descriptions are provided in the web service for information purposes only.