RK Soft
Configuration program for RK controllers
The RK Soft program is intended for configuring controllers of the RK series. It also allows you to quickly enroll keyfobs and assign functions to keyfob buttons.
work in Windows 7/8/10 environment
configuring the behavior of RK controller relay outputs
keyfob management

adding and removing keyfobs
assigning controller relay outputs to keyfob buttons

information about the status of

controller inputs/outputs
keyfob battery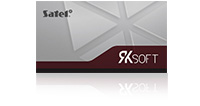 The actual appearance of the products may differ from the presented images. Product descriptions are provided in the web service for information purposes only.
Software
Choose version:

RK Soft v1.01.000
Polish, English, Bulgarian, Czech, Finnish, French, Greek, Dutch, Spanish, German, Norwegian, Russian, Romanian, Slovak, Turkish, Ukrainian, Hungarian, Italian
compiled: 2020-11-16
go to


RK Soft 1.00.000
Polish, English, Bulgarian, Czech, French, Dutch, Spanish, German, Russian, Slovak, Hungarian, Italian, Turkish, Ukrainian
compiled: 2020-06-24
go to

Products
Information materials

Technical Data
894 KB
download