Features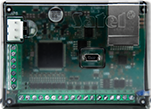 ETHM-A
UNIVERSAL MONITORING MODULE
Monitor, control and report the system status with a single device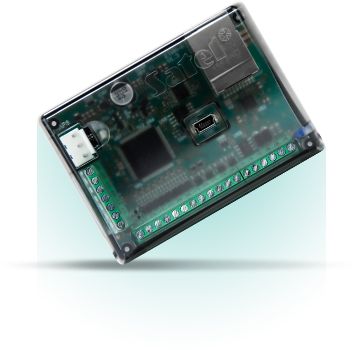 What is ETHM-A?
ETHM-A is a universal monitoring module capable of transmitting data over the Ethernet network. The module can operate within a local area network, there is no need to redirect the transmitted information over the Internet or create a database. Everything remains within the local network, protected by a firewall. ETHM-A does not generate additional costs, since there is no need to use a SIM card or phone subscription like in other GSM communication modules.
The module can be used in many existing and newly built installations to: monitor various devices, report system events, or transmit collected data.

Within an alarm system
Connected to an alarm control panel, the module transmits data on events recorded by the alarm system. ETHM-A can support any monitoring station (using the SIA-IP protocol) or stations manufactured by SATEL

As an IoT device
The data received from connected devices can be transferred by the module for further processing, archiving or visualisation. ETHM-A uses the MQTT, JSON and JSON/HTTP open communication protocols to communicate

Autonomously
ETHM-A can control automation system elements connected to the module outputs, either automatically or on user command. The module can also be programmed to perform a specific action responding to data received from connected sensors.

How to use the module?
The key word is versatility. ETHM-A inputs can be programmed to interface with other devices, including various analogue sensors and digital-to-analogue converters. ETHM-A transforms received analogue signal into any unit (like temperature) or other physical quantity. The device is equipped with a 1-Wire type digital sensor bus, and can support up to 8 detectors, with a maximum bus length of up to 30 m.

How it works?
ETHM-A uses several types of protocols and transmission formats for monitoring and notification. Therefore, the module can both work in local area networks, and be connected to the Internet. This way, the users of systems monitored by ETHM-A can access data received by the module from practically any place with the Internet connection.
Where to use it?
It is an ideal solution for places which require constant monitoring of various parameters. ETHM-A can be useful in isolated places with no access to a strong enough mobile network signal to ensure effective communication.

Solar and wind farms
ETHM-A can monitor weather conditions, temperature or even dirt levels on panels, and battery status.


How to control it remotely?
With the ETHM-A module, it is simple and easy, using dedicated software solutions.

GX CONTROL
Mobile app for Android and iOS users. It is designed to access the status of system devices, display values read by detectors, browse event history, and more. Whenever an event is logged in the system, the app displays a PUSH message.

GX Soft
PC software designed for configuration and diagnostics of the SATEL communication modules - including ETHM-A. A clear user interface enables quick and easy programming of the module operation.
Is the remote connection safe?
Security of communication between the GX Soft software and the GX CONTROL application, and the ETHM-A communication module is ensured by the SATEL connection setup service. The configuration of communication between the device and the programs takes only a few moments, and does not require an external IP address or advanced network settings. The transmitted data are encrypted using a complex algorithm.
How to update ETHM-A?
PC with an ETHM-A Firmware update file downloaded
UpServ remote firmware update server
Learn about other SATEL communication modules
Are you looking for another way to enable your system to communicate with external devices?
Check out other devices, and learn more.
Characteristics
ETHM-A is a universal monitoring module which can operate autonomously, as part of an intruder alarm system or in automation systems. The module allows transmission of information via the Ethernet network.
In intruder alarm systems, the module can be used for event reporting, when connected to an alarm control panel via its dialler. ETHM-A can also be connected to a control panel using suitably configured control panel outputs connected to the module inputs.
ETHM-A has 8 inputs which can be programmed as NO, NC or analogue to work with devices equipped with NO or NC outputs, analogue sensors or D/A converters. Additionally, it is equipped with a 1-Wire digital sensor bus and can be connected to max 8 detectors (e.g., temperature) with a maximum bus length of 30 m. In this way, the module can be used to collect and transmit various types of data within the IoT, e.g., current temperature, humidity level and others. ETHM-A can also transmit to the monitoring station events that have taken place in the alarm system (e.g., arming, alarms and others).
ETHM-A has 4 transistor outputs (OC). They can be controlled remotely, e.g., using the GX CONTROL mobile app, a computer with the GX Soft software installed or within the IoT.
The module can also be used to send PUSH notifications to mobile devices with the GX CONTROL app installed and via e-mail.
To program and configure the module, a PC with the GX Soft software installed is required. ETHM-A supports local connection (USB) or remote connection (Ethernet). The ETHM-A firmware can be updated remotely using the UpServ software.
audio monitoring conversion (SIA/DTMF/pulse)
messaging: PUSH/E-mail
8 programmable inputs (NO/NC/analogue)
1-Wire digital sensor bus (up to 8 detectors)
configurable module response to exceeded programmed threshold values:

from analogue inputs
from 1-Wire sensors
4 OC type outputs controlled:

remotely via GX CONTROL
locally/remotely via GX Soft
remotely by IoT
locally using 8 module inputs
support for open communication protocols:
configuration of the module settings with GX Soft

locally via USB
remotely via Ethernet
support for the GX CONTROL mobile app
remote update of firmware via UpServ
Documentation

ethm-a_en.pdf
general information manual
updated: 2021-12-06
1.77 MB

ethm-a_sii_en.pdf
quick installer guide
updated: 2021-12-06
354 KB
Software

CONFX 2.0.10
English
compiled: 2021-11-02

ETHM-A Firmware
universal
compiled: 2022-03-28
Certificates
Technical Data
Number of inputs (zones)
8
Enclosure dimensions
83 x 60 x 26 mm
Operating temperature range
-10...+55°C
Standby mode current consumption
60 mA
Max. current consumption
80 mA
Environmental class according to EN50130-5
II
OC type outputs
50 mA / 12 V DC
Maximum allowable AC input voltage
25 V AC
Information materials

Technical Data
894 KB
The actual appearance of the products may differ from the presented images. Product descriptions are provided in the web service for information purposes only.