AMD-101 BR
Dual channel wireless magnetic contact
Meet the successor AMD-101 BR!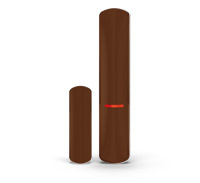 AXD-200 BR
Wireless multipurpose detector
CHECK
Meet the successor AMD-101 BR!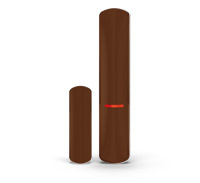 AXD-200 BR
Wireless universal detector
CHECK
The magnetic contact detectors belong to the essential perimeter security devices. They are used to protect doors, windows, etc. by triggering alarm when they are open. AMD-101 BR is a wireless model designed for operation as part of the ABAX two-way wireless system. The use of two built-in reed switches allows you to choose the method of installation: the magnet interacting with the sensor can be placed either under or at the side of the detector, depending on the needs. The device is provided with an additional input for connecting another NC type detector that is recognized by the system as a separate device, owing to the use of an independent channel. AMD-101 BR comes with tamper protection and test mode LED indicator. It is compatible with INTEGRA 128-WRL control panel, ACU-120, ACU-270 and the older ACU-100, ACU-250 controllers, as well as with ARU-100 radio signal repeater. It meets the EN 50131-2-6 requirements for Grade 2.
The AMD-101 detector is available in two color versions: white (AMD-101) and brown (AMD-101 BR).
two reed contacts for easy installation
terminals for connecting external detector
remote configuration
separate digital channel for external detector
tamper protection

discontinued
The actual appearance of the products may differ from the presented images. Product descriptions are provided in the web service for information purposes only.
Documentation

amd101_io_int_0616.pdf
general information manual
updated: 2016-06-27
486 KB
Certificates
EU declaration of conformity
updated: 2009-09-14
127 KB
EN-50131 GRADE 2 - certificate
updated: 2016-01-22
206 KB
INCERT
updated: 2018-04-17
311 KB
Technical Data
Additional input sensitivity
312 ms
Battery working time (in years)
Estimated 3 years
Enclosure dimensions
24 x 110 x 27 mm
Operating temperature range
-10…+55 °C
Standby mode current consumption
50 µA
Max. current consumption
16 mA
Operating frequency band
868,0 ÷ 868,6 MHz
Radio communication range (in open area)
up to 500 m m
Environmental class according to EN50130-5
II
Complied with standards
EN 50130-4, EN 50130-5, EN 50131-1, EN 50131-2-6, EN 50131-5-3
Security grade according to EN50131-2-6
Grade 2
Information materials

ABAX Leaflet
1.96 MB

Technical Data
894 KB