ACCO-SOFT-LT
ACCO system and door controllers configuration software
ACCO-SOFT-LT is free software designed to manage the ACCO access control system, including configuration settings of the ACCO-KP, ACCO-KP-PS, ACCO-KPWG and ACCO-KPWG-PS door control modules. The software is used to manage the ACCO system users, their permissions, schemes and schedules of access for each of them. It also offers possibility to operate and visualize the status of a single controller as well as the entire system marked on the site plan, making the premises easier to supervise. The program also gives you the ability to directly manage the connected doors. ACCO-SOFT-LT collects information on events as they occur, with the possibility to export their lists to CSV or XLS files. Events can be filtered and, in addition, images assigned to the users associated with the event can be displayed.
compatible with Windows 98/ME/2000/XP/VISTA/7
configuration of ACCO door controllers: ACCO-KP, ACCO-KPWG, ACCO-KP-PS, ACCO-KPWG-PS
visualization of door controllers and system status
ACCO system users management
defining access pathways
support for Dallas iButtons
event log download and analysis:

user photos displaying for user related events
advanced event filtering
event export to CSV or EXCEL formats

communication with devices:

on-board RS-232
RS-485 with ACCO-USB interface
Attention!
ACCO-SOFT-LT software in version:
v1.03 works with all ACCO controllers only in version v2.03
v1.04 works with all ACCO controllers only in version v3.00
v1.05 works with all ACCO controllers in version v3.00 or v3.01
v1.07.004 works with all ACCO controllers only in version v3.01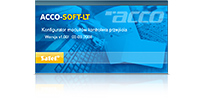 The actual appearance of the products may differ from the presented images. Product descriptions are provided in the web service for information purposes only.
Software
Products
Information materials

Technical Data
894 KB