ETHM-FLASH
ETHM-1 Module Firmware Updating Program
updates the module firmware to version 1.02 (this change is necessary to properly work with INTEGRA Control Panel version 1.04 and higher)
use the same cable as for updating INTEGRA Control Panels. Connect the cable to the ETHM-1 module, run the "Ethm Flash" apllication and follow the instruction on the screen.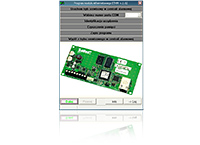 The actual appearance of the products may differ from the presented images. Product descriptions are provided in the web service for information purposes only.
Software
Choose version:

ETHM-FLASH 1.07
English
compiled: 2015-03-02
go to


ETHM-FLASH 1.07
Polish
compiled: 2015-03-02
go to

Products
TCP/IP communication module
Information materials

Technical Data
894 KB
download