VERSA 15 Firmware
VERSA 15 Firmware
For panel programming, DLOADX 1.08.000 2010-06-22 or newer is required.
Panel is compatible with all keypad versions, but for EN 50131 Grade 2 compliance, keypads (both LCD and LED) version 1.01 2010-06-22 is required.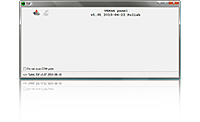 The actual appearance of the products may differ from the presented images. Product descriptions are provided in the web service for information purposes only.
Software
Products
Intruder alarm control panel
Information materials

Technical Data
894 KB
download