INTEGRA 128 Plus Firmware
Alarm control panel firmware
It is necessary to use the FLASHX program version corresponding to the firmware version being updated.
CAUTION: before downloading program files it is advisable to check the website for updates to the firmware and take eventual measures to assure the control panel's proper operation.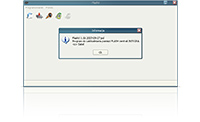 The actual appearance of the products may differ from the presented images. Product descriptions are provided in the web service for information purposes only.
Software
Products
EN50131 Grade 3 compliant alarm control panel main board, with 16 up to 128 zones and outputs
Information materials

Technical Data
894 KB
download