VERSA-MCU Firmware
VERSA-MCU Firmware
Program for updating the VERSA-MCU module firmware.

Attention
Firmware update by using this program is only possible for modules with firmware 1.03 or newer.
Updating the module firmware in version 1.02 or older is only possible to perform by the SATEL Service.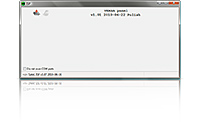 The actual appearance of the products may differ from the presented images. Product descriptions are provided in the web service for information purposes only.
Software
Choose version:

VERSA-MCU Firmware 1.04
multi-language
compiled: 2017-01-16
go to

Products
Wireless system controller
Information materials

Technical Data
894 KB
download