MTX-SOFT
MTX-SOFT
The MTX-SOFT has been designed to configure the MTX-300 contraller. Using the program is simple and intuitive, and programming the controller takes very little time. The program offers a diagnostic tool to facilitate the installer's work. It indicates which detector has a low battery level or connectivity issues, and whether its tamper switch has been violated. Advanced functionality of this tool also allows you to check the current level of interference occurring at 433 MHz frequency and to verify the quality and strength of radio connection between the devices.
operation in Windows XP/VISTA/7/8/10 environment
configuration of working parameters of MTX-300 controller and MSP-300 sirens
diagnostics of the MTX-300 module and registered 433 MHz radio devices (keyfobs, detectors, sirens)
communication with the MTX-300 module via SATEL's USB-RS converter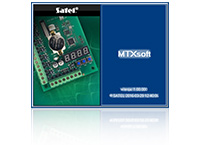 The actual appearance of the products may differ from the presented images. Product descriptions are provided in the web service for information purposes only.
Software
Choose version:

MTX Soft v1.01.004
Polish, English, Dutch, Spanish, Russian, Slovak, Italian
compiled: 2020-12-04
go to


MTX Soft 1.02.000
Polish, English, Dutch, Spanish, Russian, Slovak, Italian
compiled: 2022-06-29
go to

Products
433 MHz wireless system controller
Information materials

Technical Data
894 KB
download