SATEL at Security Essen 2014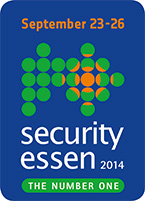 The 40th edition of the Security Essen trade fair held in Germany is already over. The event, one of the biggest in the security industry in the world, attracted 1,045 exhibitors from 40 countries and some 40 000 visitors from 110 countries this year.
For the first time, solutions covering up to 40 segments, ranging from mechanical security devices and digital security technology, through fire protection and video surveillance, to the IT sector security and the latest achievements in the field of counterterrorism were presented at the fair.
SATEL, along with the ASL ADEMCO company, Distributor in Germany, presented the latest products and solutions designed for protection of buildings and premises, differing in size and function. The security industry professionals who were visiting SATEL's stand paid special attention to the latest devices, including the ACCO NET access control system, VERSA Plus hybrid control panel, VERSA-LCDM-WRL wireless keypad, INT-TSI and INT-TSG touch keypads, as well as MSP-300 wireless siren.
At our stand, we hosted many professionals engaged in the installation of electronic security systems. Their favorable opinions of SATEL's products, both in terms of functionality and convenience of daily operation of the security systems, confirm the well-chosen direction and growing position of the brand in the German market.
SATEL would like to thank you all for visiting our stand. See you at the next edition of the Security Essen Fair!