Autumn 2013 News
The holidays are coming to an end and SATEL is extending their current offer with new products. Their design results from constantly conducted development works aimed at even more extensive fulfilment of needs and expectations of Clients looking for highest-quality solutions.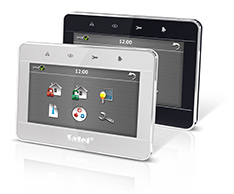 One of the most important product premieres is the INT-TSG touchscreen keypad. This device equipped with a 4,3" touchscreen offers a totally new quality alarm system operation with INTEGRA control panels, well-known from solutions implemented by means of smartphones and tablets. Large icons displayed on the screen facilitate activation and deactivation of the standby mode as well as control of automation equipment. One must not forget about the appealing and modern design of the device available in two colour variants, thanks to which it perfectly complements the design of any interior, i.e. modern or traditional one.
Another absolutely new product is the INT-AV audio alarm verification unit with INT-AVT terminals. It is designed for conducting an initial remote assessment of risks in a protected facility, which is provided by the sound monitoring functionality deployed in selected rooms. The INT-AV module functionality makes it possible to provide two-way audio communication between a remote monitoring station operator and persons present in a protected facility. The INT-AV module makes it possible to reduce the number of unnecessary interventions, which contributes to decreasing the alarm system management costs.

The new products are complemented with the MLT-POD spacing pad facilitating installation devices equipped with proximity card readers: INT-SCR-BL, CZ-EMM3, CZ-EMM4, PK-01 and ACCO-SCR. It ensures aesthetic and fast enhancement of the proximity card readout range on surfaces with metal elements, which streamlines operator's work.