New products and new functionalities
New products and new functionalities
At the beginning of 2015, SATEL has the pleasure to present a number of new products that extend the capabilities of wireless systems, as well as new features for the devices that are already on offer. Their introduction was made possible by using the latest technologies and innovative solutions implemented by SATEL's engineers. Moreover, all these changes are closely related. How? See for yourself:
What's new in SATEL's offer at the beginning of 2015?
Firstly, excellent operating ranges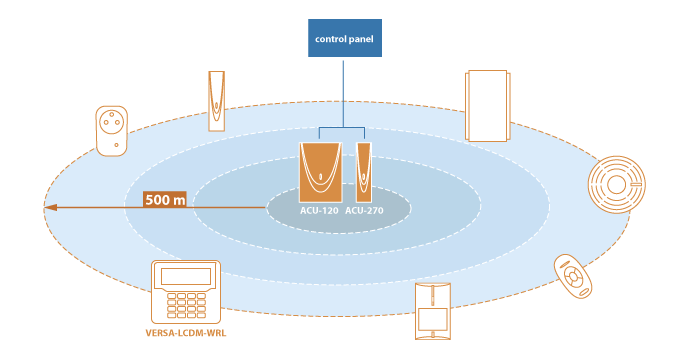 But that's not all!
In addition to their excellent ranges, the ACU-120 and ACU-270 controllers also offer new system operating capabilities: by using two-way remote control keyfobs of the ABAX system, as well as fully wireless keypads.
Secondly, fully wireless operation of the alarm system
Thirdly, easy reading of cards
Fourthly, new features in well-known devices
In parallel with the development of new products, engineers and developers from SATEL are also working on expansion of the rich functionality of devices which have already found their permanent place in SATEL's product offering.
At the beginning of the year, two new versions of the firmware of well-known and valued products were released. Due to the introduced changes, a very useful solution has been created that enables interaction of the INT-TSG keypad with the VERSA family control panels!
2015 a year of innovations from SATEL
The new products of January 2015 are a huge leap in the quality of wireless systems, which directly translates into new capabilities and areas of application of the ABAX systems. They mean also a new quality of daily operation for the owners of wireless systems.
However, the solutions presented above are just the beginning of a series of innovations that SATEL will have the pleasure to present in 2015. More information coming soon!