New product launches at the end of 2015
New product launches
at the end of 2015
For SATEL, the year 2015 has been marked by a number of new product launches. These included some solutions enhancing operation of the ABAX wireless system, which were introduced in January, the new VERSA Plus control panel, which was launched in March, as well as the OPAL and OPAL Plus outdoor dual technology motion detectors which were presented in September.
However, this is not all - by the end of the year, further two products have been added to the SATEL offer. The first of them is a keypad that provides simple, convenient and intuitive operation of the alarm system based on the control panel of VERSA or INTEGRA series, while the other one is designed to improve the quality of listening in to the sounds from the building protected by a system based on the MICRA module.
INT-TSH
Touchscreen keypad
compatible with INTEGRA, INTEGRA Plus, VERSA and VERSA Plus control panels
comes with a 7-inch touchscreen
provides convenient and intuitive operation of the system
has MACRO functions for easy control of the alarm system and home automation components (supported only by INTEGRA and INTEGRA Plus control panels)
features a fully customizable status screen
available in three color versions: light, dark and white
MIC-1
Microphone
can be used with the MICRA alarm module
offers the listen-in feature
packed in a compact enclosure
available with 10 m long shielded cable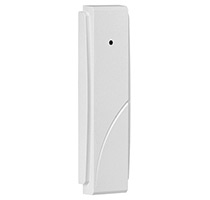 These two devices complete the list of new products introduced by SATEL in 2015 - the next ones will be presented in the new year 2016. More information coming soon!